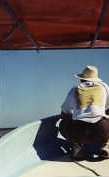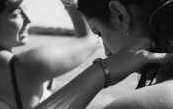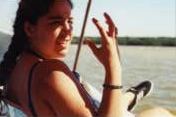 Top left to bottom: Agusto (Goose Pot), Bonny ('My Name is Bon, Bon-Bon'), Julia (prounounced Hoolia, or Pilsbury), Marisa (Marisa, Marisa, Marisa- and rolling of the r's is muy neccessario), and Lisa (Chichen Lisa, or Chich)

and myself... Leila, aka, Coco Loco- Crazy Coconut for you monolinguals.
reflecting on our group . . .

What a strange group we were. In Celestun, ours was the fasted boat, even though we were the last in line for EVERYTHING. Hey, we like to appreciate life. Our driver whirled past all the boats before us, leaving us all a bit like the image of Lisa, exhilarated, and dazed by motion.

Together with the others in our UMass photo crew, we had many adventures and misadventures. And of course, we sequestered others to our group.




Like in Valladolid 'home of Moe,' when we adopted a pack of strays (not to mention the two Italians). The first night we had one dog who we named 'Brunt' following us clear across town. The locals must have thought us mad.

Or in Merida when Bonny caught the bridal crown at El Establo, "WHERE THE FUN NEVER STOP" and spent hours with the bride and groom.

We had many laughs together. Who could forget the battle with the coconut meat in the train ride back from Izamel, and all our talk about the beaded beatle pins?

We managed to sit through the stale stench in the bus, which quickly became our second home. The second place of rest for the sun drenched, energy dwindled pack of us. Although I don't think I have ever felt so exhausted and well-rested at the same time.

We experienced sights, smells, sounds, tastes and customs we never had before. Toronja Cristal, limes with every meal, colors incomparable, dance, etc. I thank each and every one of you for making this experience what it was. It certainly was an adventure. Don't forget to turn your kaleidoscopes (or even look through someone else's) every once in a while, you never know what combinations you might find.